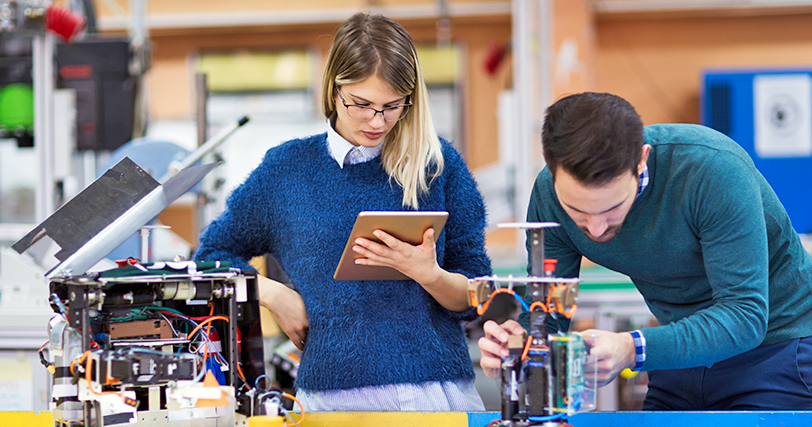 There is no need to mention that technology is developing with the light speed. Every day and night, scientists create something new. The potential of new technological advancements seems to be eternal. In many cases, new technological advancements are created to help people but, sometimes, they have negative outcomes on our lives.
Technology Essay Topics for Students
It is one of the reasons why many students choose technology essay topics for their writing assignments. Sometimes, it may be impossible to find an interesting and eye catching topic on your own. That is why we have created a list of technology essay topics so that you could choose the one that interests you the most.
Has technology advancement changed the way we communicate and live our lives?
Describe how one of the most popular technological advancement, like electro car, mobile phone, TV, Internet, etc., influences the way people live today.
Technological progress and its history: first discoveries in technological world.
Would we live a different life today without technological progress?
Positive and negative aspect of technology.
Has Internet made people free and smarter? Why?
Does technology impact your own life style? Do you feel certain degree of dependence? Can you give up on using technological advancements on everyday basis?
Do we lose something important in our lives when we overuse technology? What is it?
Describe pros and cons of a particular gadget.
Do we need to make children more aware of a certain technology? What is it and how do we do it?
What is the most prominent technology? Describe it in detail and explain why you chose it?
Has technology played a crucial role in globalization?
Work and technology: pros and cons of using technology at the workplace.
What s the future of technology? How will people live their lives in 30 years?
Who will win the life game? Human beings or robots?
Advantages of reproduction technologies.
Has the world changed with new health technologies?
Genetic engineering and technological advancements.
Human identity and technological advancements. Do we need more privacy in our life?
Has technology altered the rules of military conflicts and wars?
As you can see the list of technology essay topics can be endless. Below you may also check out some science topics to write about:
Topics on Ecology:
Ozone hole is reducing. How is it possible?
Credits of carbon
Mass fires in the forests and how to avoid them
Coal mining and its effect on our environment. Is it time to refuse from solid fuel?
Urban farms as the way to avoid city pollution.
Topic on Earth and Physical Science:
Weather systems tampering
Storm chaser and its role
Pros and cons of elastic-rebound theory
How to protect the groundwater
Geography and engineering
Topics on Chemistry:
How to create an alternative to petroleum and make it both eco-friendly and affordable?
Mercury in fish and its impact on human health
Pros and cons of 3D printing
Chemistry and its role in terrorism
Human diet and pH
Topics on Genetics:
Mapping the genes
How to deal with overpopulation
Is it ethical right to choose genetics for future children?
Food that is genetically engineered: pros and cons
Food limits on the Earth
Topics on Physiology:
Effortless beauty or plastic surgery?
Artificial replacements of body parts
Brain stimulation with the help of medications
Food allergies and their physical effects on our body
How to improve hearing?
Writing a Technology Essay
When you have decided what technology topics to choose, it is a high time to start working on the essay. You will need to make a plan. Below you may find some tips on how to organize your essay:
Look for related sources of information. Choose only up-to-date and credible sources. Do not use fake information.
Think about the most important points in your research question. They may be highlighted in the essay as main ideas.
Begin your writing process. Write an outline so as not to get lost in writing. It will help you to develop your thoughts logically.
Begin with introduction so that the reader could understand what the essay is about in general. Provide background information on the chosen topic.
After you finish writing introduction, begin to write the main body. All your statements should be mentioned here. In addition, they should be supported with real evidence.
Conclusion is the last step in essay writing. Make it concise and logical. There is no need to write new information or ideas.
When you have completed writing your essay, please do not forget to check I for any grammatical mistakes. You can even have a fresh look at your essay in a few days.
Making the Right Decision
We understand that technology research topics are not always easy. So, if you cannot choose your topic, visit your professor and ask him/her for additional consultation. You can also ask your classmate to help you with selecting among technology related topics.