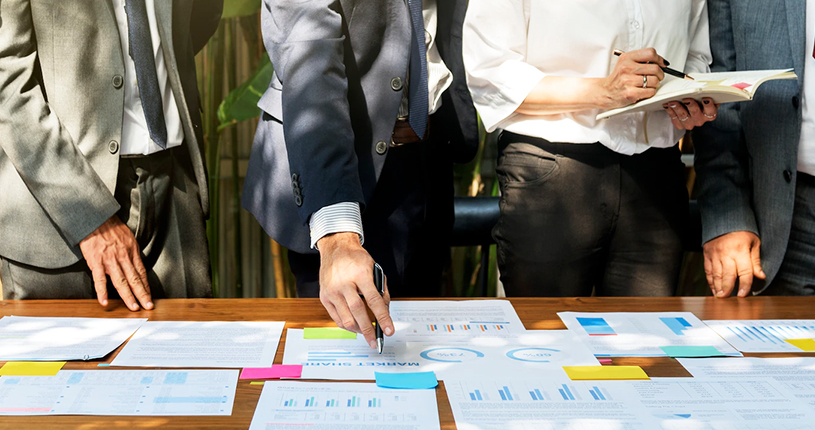 Many students and people wonder how to write a marketing plan. Imagine that you are creating a map for your trip. You plan to sell a product or offer a service. You'll take a long trip before you become profitable, and it will have several different milestones. This is your plan. You'll use this logic when learning how to write a marketing plan outline.
In the past 20 years, marketing has become extremely competitive. Companies develop sophisticated strategies to generate profits and preserve their position in the market. With a thoroughly developed document, you'll know how to treat your customers sensitively and become successful. 
Steps for Marketing Plan Writing
You can't move forward with your business activity without having a well-developed outline. 
Follow these simple steps below. 
Create a mission statement.
In your mission statement, specify the type of your business and the goals you plan to achieve. You can create up to three paragraphs devoted to this component. 
Identify your target population or markets.
Now, identify your target users. What segment of the market do you plan to be in? For instance, you may want to offer your services to small IT companies. Be specific. 
Specify and describe your offer.
Do research to evaluate the current market. If you have several offers, choose the one that can yield the biggest profits or revenues, or the one which is more likely to benefit your target customers. 
Identify strategies to promote your offer.
There is no best strategy. You should align it with your offer. 
Some strategies to promote products and services include:
Networking: you can join online or face-to-face discussion groups to familiarize others with your products and services.

Direct marketing: you can print out and disseminate useful information about your offer. For example, you can use brochures and flyers. Make sure that the audience can understand your message. 

Media advertising: it can be expensive, but it usually gives more credibility in the eyes of potential customers. Remember that media advertising should be continuous and omnipresent. 

Training: educate people about the benefits of your product or service. 

Blogging and

marketing plan writing

: use the Internet to publish newsletters or write comments about your offer. 

In-person selling: you can reach to customers directly and offer your products or services in-person. However, it's always beneficial to do it in focus groups. 

Press releases: anyone learning

how to write a marketing plan

knows the word "press release". Use local published media to tell people about your services. 

Trade shows: you can participate at any level, from local to national, to present your product or service to a range of knowledgeable audience. 
Evaluate the intensity of the competition.
Even if you are writing a marketing plan for college, you will need to conduct market research. The task is to evaluate current position of a company against its current or future rivals. Identify company's strengths and weaknesses. Analyze the competitors, both direct and indirect. See how company's offer stands out among others. You will need to emphasize the benefits the company provides to win the competition. You must understand how the offered services benefit existing and potential customers. Once you have it, your journey to success writing a marking plan will be much smoother. 
Set measurable marketing goals.
Make sure that the goals you set for your product or service are measurable. For example, you can have a specific number of units you plan to sell within the first month or year. Likewise, you can estimate the number of returning clients you plan to attract in the first year. This can be anything, but you must be able to measure it. Set explicit benchmarks and monitor your successes against quantitative goals. Also, don't forget about the budget. Choose strategies wisely and be very accurate with your finances until you earn the first profits. 
Monitor your progress continuously.
To make the project successful, you should monitor your successes continuously. You should be able to determine what strategies are good and which ones are not. Switch to those that generate revenues and drop those that bring nothing in return. If you want to know how to write a marketing plan – monitor what your customers say about the product and level of service. They are the best source of information for you. Whatever textbooks you read or whatever courses you take, always rely on your customers. Use their responses to update and adjust your promotional materials for the marketing campaign. 
Valuable Tips to Write a Marketing Plan for College
Look for customers who will return to you for more products and services. Create a strong customer base. 

Use customer responses to create an informative consumer profile. This way, you'll know your clients. You'll also know why some customers return and others leave for good. 

Keep the focus. You have your audience. You also have the target market. 

Keep to your marketing strategy. Try not to deviate from it. If you do, you must have a valid rationale and a way out of the trouble. 

Be thorough and perseverant. Marketing is all about patience. Sometimes, you'll need to do the same thing over and over again before you can reach your ultimate goal. 

Don't forget to update or modify your plan if it doesn't go as expected. Weigh the pros and cons of the proposed change. 

Failure is possible. Don't be afraid of it. If it happens, it's just a part of the plan. You'll start it all over, but you'll eventually succeed in your struggles. 
How to Write a Marketing Plan for Success
The success of any business begins with knowledge. Business owners must have a vision, perspective, and a perfect understanding of their clients. With a well-developed marketing map, they can start planning their efforts for growth and continued development. However, it is not a one-day endeavor. Marketing plans require research. They need regular updates. As the situation unfolds, the new plan will reflect new revised approaches, goals, and benchmarks. It will be better suited to support the growth of your enterprise. 
Even if it is a library, a marketing plan will benefit you. It will speed up change and improve your chances for success. Become smarter today and use our tips to exceed your goals.